Annals of Saudi Medicine (ISO4) Standard Journal Abbreviation
Ann. Saudi Med. (Ann Saudi Med)
---
Annals of Saudi Medicine - Abbreviation - Journals usually have long names, such as (Annals of Saudi Medicine). It is hard to list them in databases with such long names so they're usually shortened to aid in storing data. These shortened names are known as journal abbreviations. Journal abbreviations are shortened from the Journal title. An example of a Annals of Saudi Medicine abbreviation is Ann. Saudi Med. (Ann Saudi Med).
The use of standardized abbreviations is important to get correct and corroborated scientific and technical citations.
Abbreviation of Annals of Saudi Medicine
The official abbreviation of the Annals of Saudi Medicine is Ann. Saudi Med. it is a standardized way to abstract, index, and reference a particular journal according to ISO 4. For example, if you're looking for a scientific journal that particularly publishes research related to Medicine in / then you can gather the required information from Annals of Saudi Medicine.
This abbreviation of the title meets all the criteria issued by ISO4 for choosing journal title abbreviations.
The official abbreviation of the Annals of Saudi Medicine is Ann. Saudi Med.
Annals of Saudi Medicine - Abbreviation Details
---
ISO4 and LTWA
List of Title Word Abbreviations or LTWA is standard abbreviations for words commonly found in serial titles. LTWA includes has more than 56,000 words and their abbreviations in about 65 languages, it is a vast database. These abbreviated words serve as the basis for constituting "abbreviated key titles" published in the ISSN Register. So might consist of words from LTWA that are formed according to ISO4 by ISSN.
The International Organization for Standardization (ISO) has appointed the ISSN (International Standard Serial Number) International Centre as the registration authority for ISO 4. ISO 4 (Information and documentation – Rules for the abbreviation of title words and titles of publications) is an international standard that marks a static system for the abbreviation of serial publication titles. According to ISO4, terms are abbreviated according to LTWA. It is a list that is filled with all the uniform abbreviations used for words in scientific excerpts. It is based on ISO 4.
International Standard for Serial Numbers provides guidelines for abbreviating titles of serials and, if required, non-serial documents by using alphabets from languages like Latin, Cyrillic, and Greek.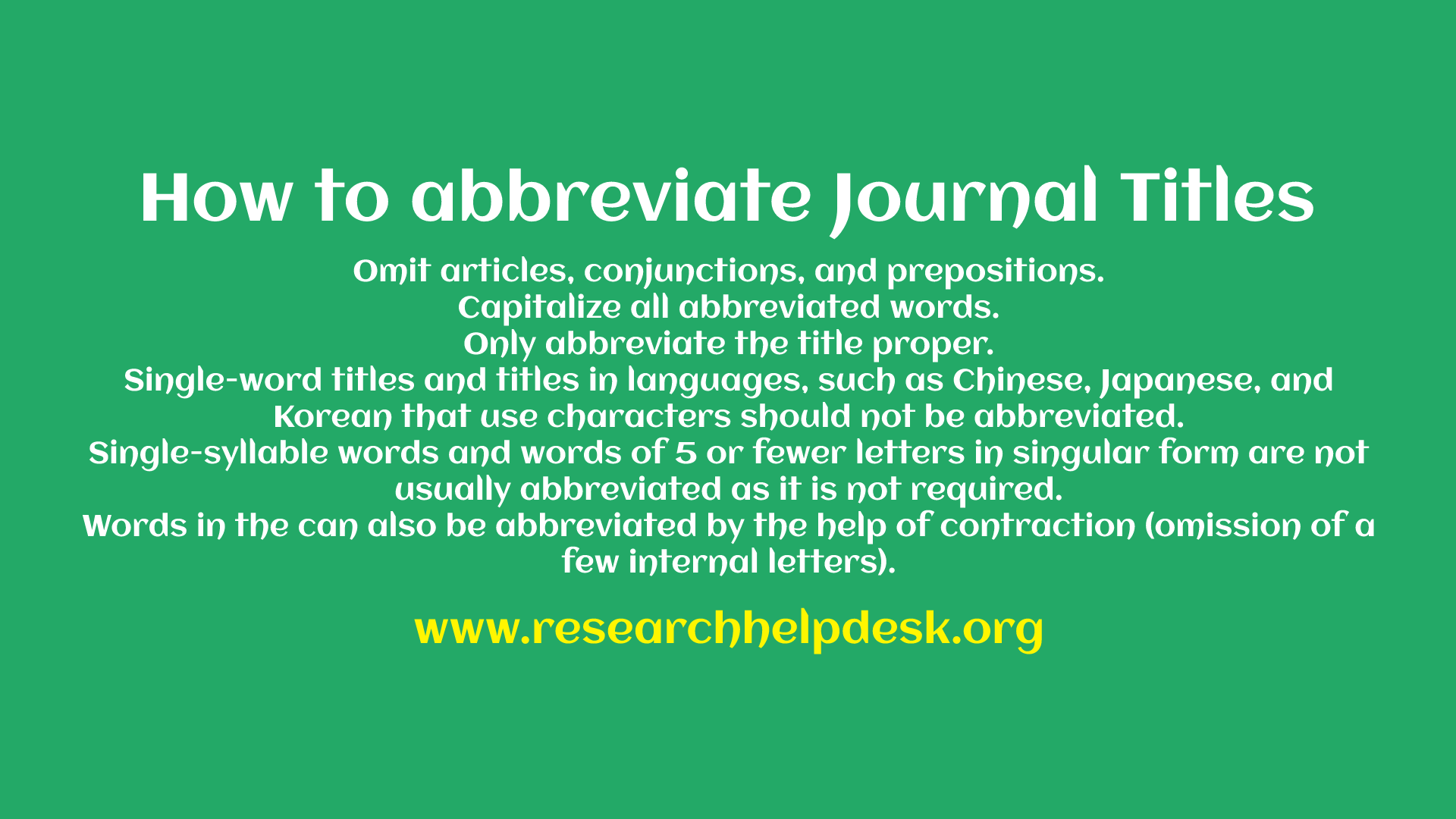 How to abbreviate Journal Titles
Omit articles, conjunctions, and prepositions.
Capitalize all abbreviated words.
Only abbreviate the title proper.
Single-word titles and titles in languages, such as Chinese, Japanese, and Korean that use characters should not be abbreviated.
Single-syllable words and words of 5 or fewer letters in singular form are not usually abbreviated as it is not required.
Words in the can also be abbreviated by the help of contraction (omission of a few internal letters).
Annals of Saudi Medicine
The Annals of Saudi Medicine (ASM) is published bimonthly by King Faisal Specialist Hospital & Research Centre, Riyadh, Saudi Arabia. We publish scientific reports of clinical interest in English. All submissions are subject to peer review by the editorial board and by reviewers in appropriate specialties. The journal will consider for publication manuscripts from any part of the world, but particularly reports that would be of interest to readers in the Middle East or other parts of Asia and Africa. Please go to the Author Resource Center for additional information. ASM conforms with the guidelines and best practices of the Recommendations for the Conduct, Reporting, Editing, and Publication of Scholarly Work in Medical Journals from ICMJE, and Principles of Transparency and Best Practice in Scholarly Publishing (joint statement by COPE, DOAJ, WAME, and OASPA). Peer Review Process All manuscripts are subject to a strict peer review process (double blind peer review) involving members of the editorial board and external reviewers with expertise in the subject matter. The process starts with an initial review by the editor-in-chief or associate editor-in-chief who makes an initial assessment of suitability for the Annals. If the manuscript is deemed of interest, it is then assigned to a member more...
---