The Journal of Bone and Joint Surgery (ISO4) Standard Journal Abbreviation
J. Bone Jt. Surg. (J Bone Jt Surg)
---
The Journal of Bone and Joint Surgery - Abbreviation - Journals usually have long names, such as (The Journal of Bone and Joint Surgery). It is hard to list them in databases with such long names so they're usually shortened to aid in storing data. These shortened names are known as journal abbreviations. Journal abbreviations are shortened from the Journal title. An example of a The Journal of Bone and Joint Surgery abbreviation is J. Bone Jt. Surg. (J Bone Jt Surg).
The use of standardized abbreviations is important to get correct and corroborated scientific and technical citations.
Abbreviation of The Journal of Bone and Joint Surgery
The official abbreviation of the The Journal of Bone and Joint Surgery is J. Bone Jt. Surg. it is a standardized way to abstract, index, and reference a particular journal according to ISO 4. For example, if you're looking for a scientific journal that particularly publishes research related to Orthopaedics in / then you can gather the required information from The Journal of Bone and Joint Surgery.
This abbreviation of the title meets all the criteria issued by ISO4 for choosing journal title abbreviations.
The official abbreviation of the The Journal of Bone and Joint Surgery is J. Bone Jt. Surg.
The Journal of Bone and Joint Surgery - Abbreviation Details
---
ISO4 and LTWA
List of Title Word Abbreviations or LTWA is standard abbreviations for words commonly found in serial titles. LTWA includes has more than 56,000 words and their abbreviations in about 65 languages, it is a vast database. These abbreviated words serve as the basis for constituting "abbreviated key titles" published in the ISSN Register. So might consist of words from LTWA that are formed according to ISO4 by ISSN.
The International Organization for Standardization (ISO) has appointed the ISSN (International Standard Serial Number) International Centre as the registration authority for ISO 4. ISO 4 (Information and documentation – Rules for the abbreviation of title words and titles of publications) is an international standard that marks a static system for the abbreviation of serial publication titles. According to ISO4, terms are abbreviated according to LTWA. It is a list that is filled with all the uniform abbreviations used for words in scientific excerpts. It is based on ISO 4.
International Standard for Serial Numbers provides guidelines for abbreviating titles of serials and, if required, non-serial documents by using alphabets from languages like Latin, Cyrillic, and Greek.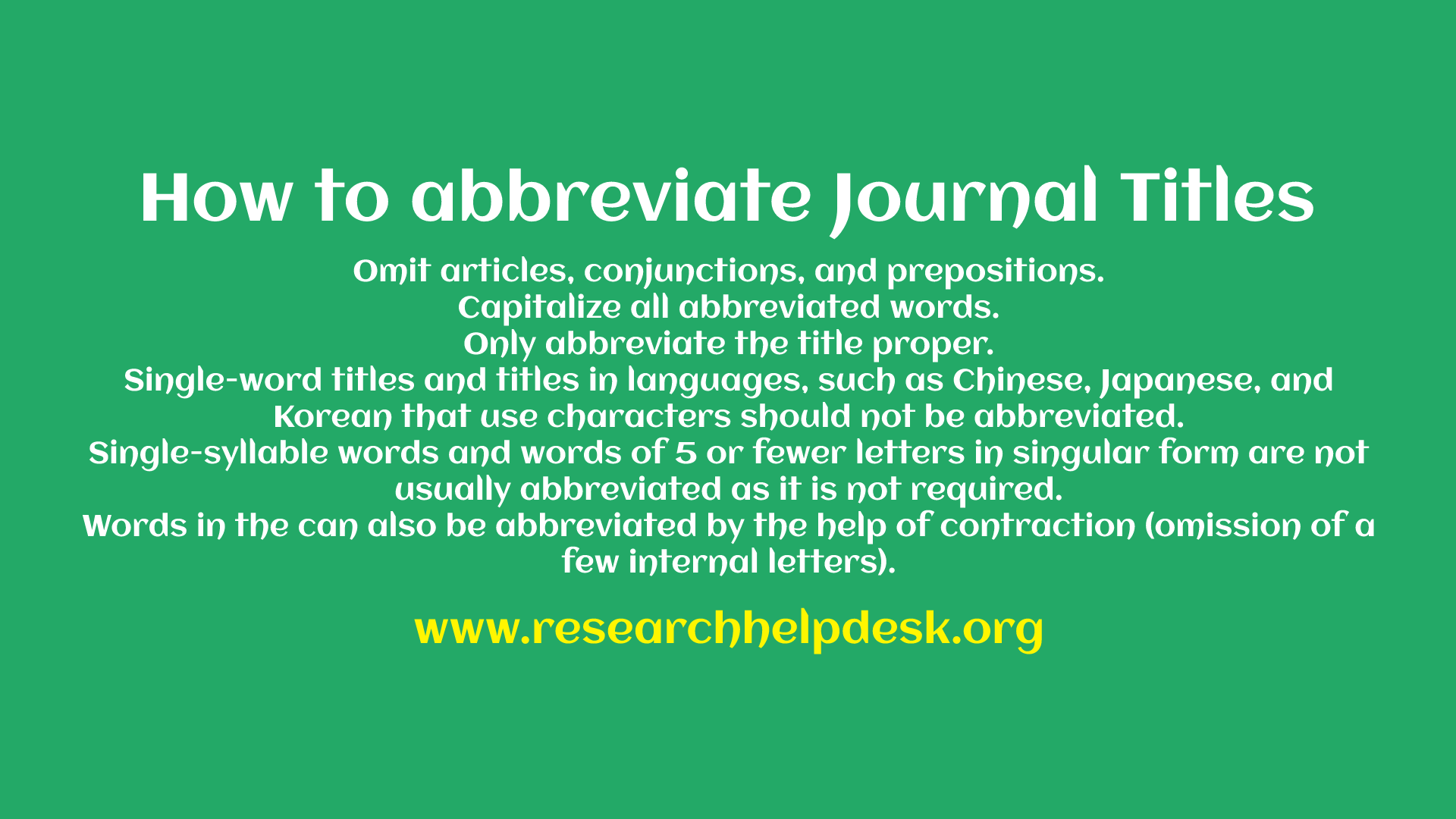 How to abbreviate Journal Titles
Omit articles, conjunctions, and prepositions.
Capitalize all abbreviated words.
Only abbreviate the title proper.
Single-word titles and titles in languages, such as Chinese, Japanese, and Korean that use characters should not be abbreviated.
Single-syllable words and words of 5 or fewer letters in singular form are not usually abbreviated as it is not required.
Words in the can also be abbreviated by the help of contraction (omission of a few internal letters).
The Journal of Bone and Joint Surgery
The Journal of Bone & Joint Surgery (JBJS) has been the most valued source of information for orthopaedic surgeons and researchers for over 125 years and is the gold standard in peer-reviewed scientific information in the field. A core journal and essential reading for general as well as specialist orthopaedic surgeons worldwide, The Journal publishes evidence-based research to enhance the quality of care for orthopaedic patients. The Journal is published twice monthly on the first and third Wednesday, each time adding to a comprehensive archive dating back to 1889. Additional features online include: social sharing, instructional videos, podcasts, and continuing medical education activities. Contributions from anywhere in the world are welcome and considered on their merits. The manuscript must be written in English and should be submitted as outlined in the Instructions for Authors. Manuscripts are subject to blinded peer review by experts and a final decision by the editor. Papers are judged by the quality and relevance of the work. Our aim is to publish the best material available from anywhere in the world. ​ JBJS is the official Journal of the American Orthopaedic Association. ​ Mission To improve musculoskeletal health across the globe by delivering gold standard information resources for clinicians, researchers, and orthopaedic care more...
---