Journal of machine learning research (ISO4) Standard Journal Abbreviation
J. Mach. Learn. Res. (J Mach Learn Res)
---
Journal of machine learning research - Abbreviation - Journals usually have long names, such as (Journal of machine learning research). It is hard to list them in databases with such long names so they're usually shortened to aid in storing data. These shortened names are known as journal abbreviations. Journal abbreviations are shortened from the Journal title. An example of a Journal of machine learning research abbreviation is J. Mach. Learn. Res. (J Mach Learn Res).
The use of standardized abbreviations is important to get correct and corroborated scientific and technical citations.
Abbreviation of Journal of machine learning research
The official abbreviation of the Journal of machine learning research is J. Mach. Learn. Res. it is a standardized way to abstract, index, and reference a particular journal according to ISO 4. For example, if you're looking for a scientific journal that particularly publishes research related to Science and knowledge in / then you can gather the required information from Journal of machine learning research.
This abbreviation of the title meets all the criteria issued by ISO4 for choosing journal title abbreviations.
The official abbreviation of the Journal of machine learning research is J. Mach. Learn. Res.
Journal of machine learning research - Abbreviation Details
---
ISO4 and LTWA
List of Title Word Abbreviations or LTWA is standard abbreviations for words commonly found in serial titles. LTWA includes has more than 56,000 words and their abbreviations in about 65 languages, it is a vast database. These abbreviated words serve as the basis for constituting "abbreviated key titles" published in the ISSN Register. So might consist of words from LTWA that are formed according to ISO4 by ISSN.
The International Organization for Standardization (ISO) has appointed the ISSN (International Standard Serial Number) International Centre as the registration authority for ISO 4. ISO 4 (Information and documentation – Rules for the abbreviation of title words and titles of publications) is an international standard that marks a static system for the abbreviation of serial publication titles. According to ISO4, terms are abbreviated according to LTWA. It is a list that is filled with all the uniform abbreviations used for words in scientific excerpts. It is based on ISO 4.
International Standard for Serial Numbers provides guidelines for abbreviating titles of serials and, if required, non-serial documents by using alphabets from languages like Latin, Cyrillic, and Greek.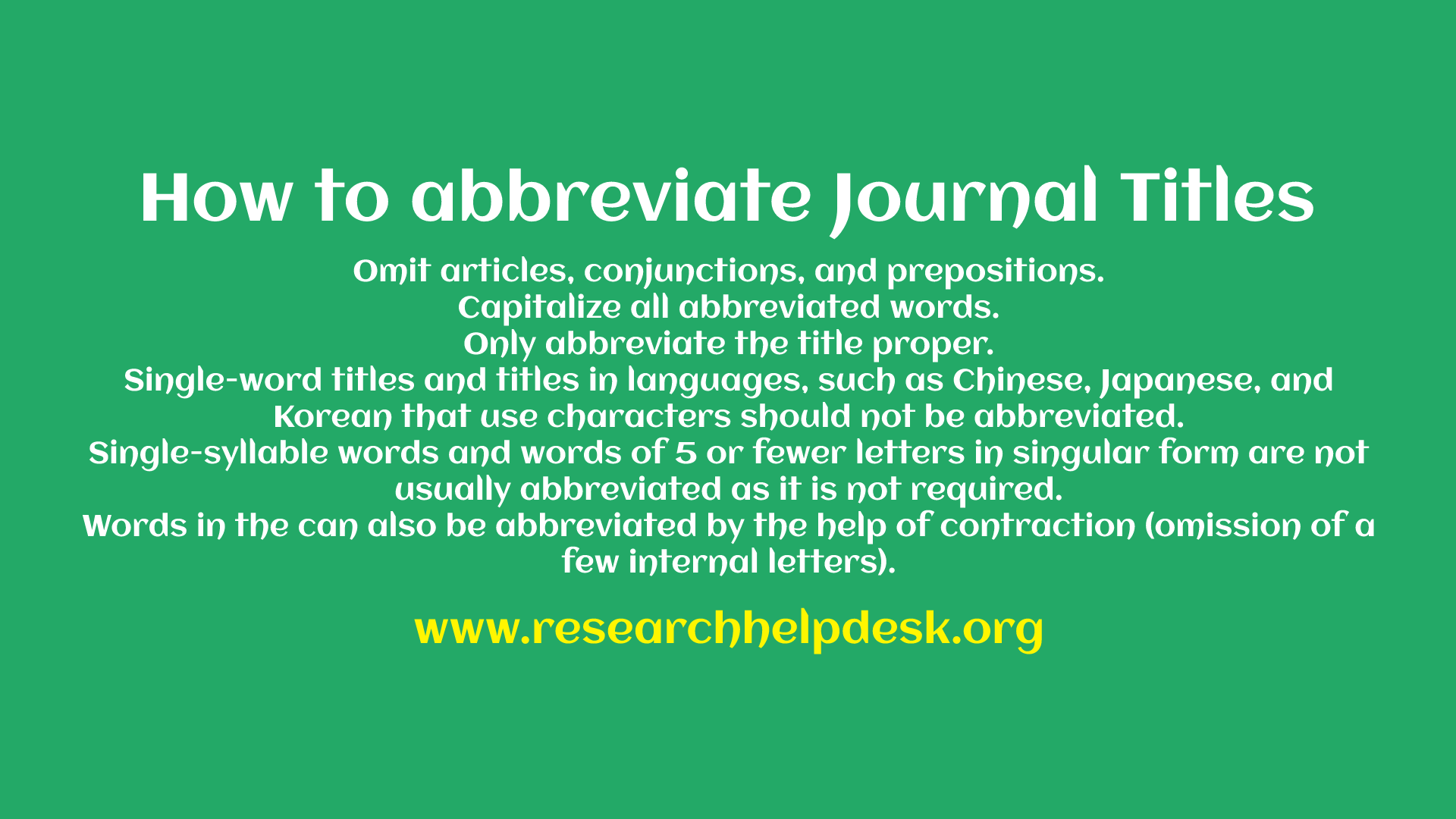 How to abbreviate Journal Titles
Omit articles, conjunctions, and prepositions.
Capitalize all abbreviated words.
Only abbreviate the title proper.
Single-word titles and titles in languages, such as Chinese, Japanese, and Korean that use characters should not be abbreviated.
Single-syllable words and words of 5 or fewer letters in singular form are not usually abbreviated as it is not required.
Words in the can also be abbreviated by the help of contraction (omission of a few internal letters).
Journal of machine learning research
The Journal of Machine Learning Research (JMLR) provides an international forum for the electronic and paper publication of high-quality scholarly articles in all areas of machine learning. All published papers are freely available online. JMLR has a commitment to rigorous yet rapid reviewing. Final versions are published electronically (ISSN 1533-7928) immediately upon receipt. Until the end of 2004, paper volumes (ISSN 1532-4435) were published 8 times annually and sold to libraries and individuals by the MIT Press. Paper volumes (ISSN 1532-4435) are now published and sold by Microtome Publishing. JMLR seeks previously unpublished papers on machine learning that contain: new principled algorithms with sound empirical validation, and with justification of theoretical, psychological, or biological nature; experimental and/or theoretical studies yielding new insight into the design and behavior of learning in intelligent systems; accounts of applications of existing techniques that shed light on the strengths and weaknesses of the methods; formalization of new learning tasks (e.g., in the context of new applications) and of methods for assessing performance on those tasks; development of new analytical frameworks that advance theoretical studies of practical learning methods; computational models of data from natural learning systems at the behavioral or neural level; or extremely well-written surveys of existing work. more...
---