Annals of Botany (ISO4) Standard Journal Abbreviation
Ann. Bot. (Ann Bot)
---
Annals of Botany - Abbreviation - Journals usually have long names, such as (Annals of Botany). It is hard to list them in databases with such long names so they're usually shortened to aid in storing data. These shortened names are known as journal abbreviations. Journal abbreviations are shortened from the Journal title. An example of a Annals of Botany abbreviation is Ann. Bot. (Ann Bot).
The use of standardized abbreviations is important to get correct and corroborated scientific and technical citations.
Abbreviation of Annals of Botany
The official abbreviation of the Annals of Botany is Ann. Bot. it is a standardized way to abstract, index, and reference a particular journal according to ISO 4. For example, if you're looking for a scientific journal that particularly publishes research related to Agriculture in / then you can gather the required information from Annals of Botany.
This abbreviation of the title meets all the criteria issued by ISO4 for choosing journal title abbreviations.
The official abbreviation of the Annals of Botany is Ann. Bot.
Annals of Botany - Abbreviation Details
---
ISO4 and LTWA
List of Title Word Abbreviations or LTWA is standard abbreviations for words commonly found in serial titles. LTWA includes has more than 56,000 words and their abbreviations in about 65 languages, it is a vast database. These abbreviated words serve as the basis for constituting "abbreviated key titles" published in the ISSN Register. So might consist of words from LTWA that are formed according to ISO4 by ISSN.
The International Organization for Standardization (ISO) has appointed the ISSN (International Standard Serial Number) International Centre as the registration authority for ISO 4. ISO 4 (Information and documentation – Rules for the abbreviation of title words and titles of publications) is an international standard that marks a static system for the abbreviation of serial publication titles. According to ISO4, terms are abbreviated according to LTWA. It is a list that is filled with all the uniform abbreviations used for words in scientific excerpts. It is based on ISO 4.
International Standard for Serial Numbers provides guidelines for abbreviating titles of serials and, if required, non-serial documents by using alphabets from languages like Latin, Cyrillic, and Greek.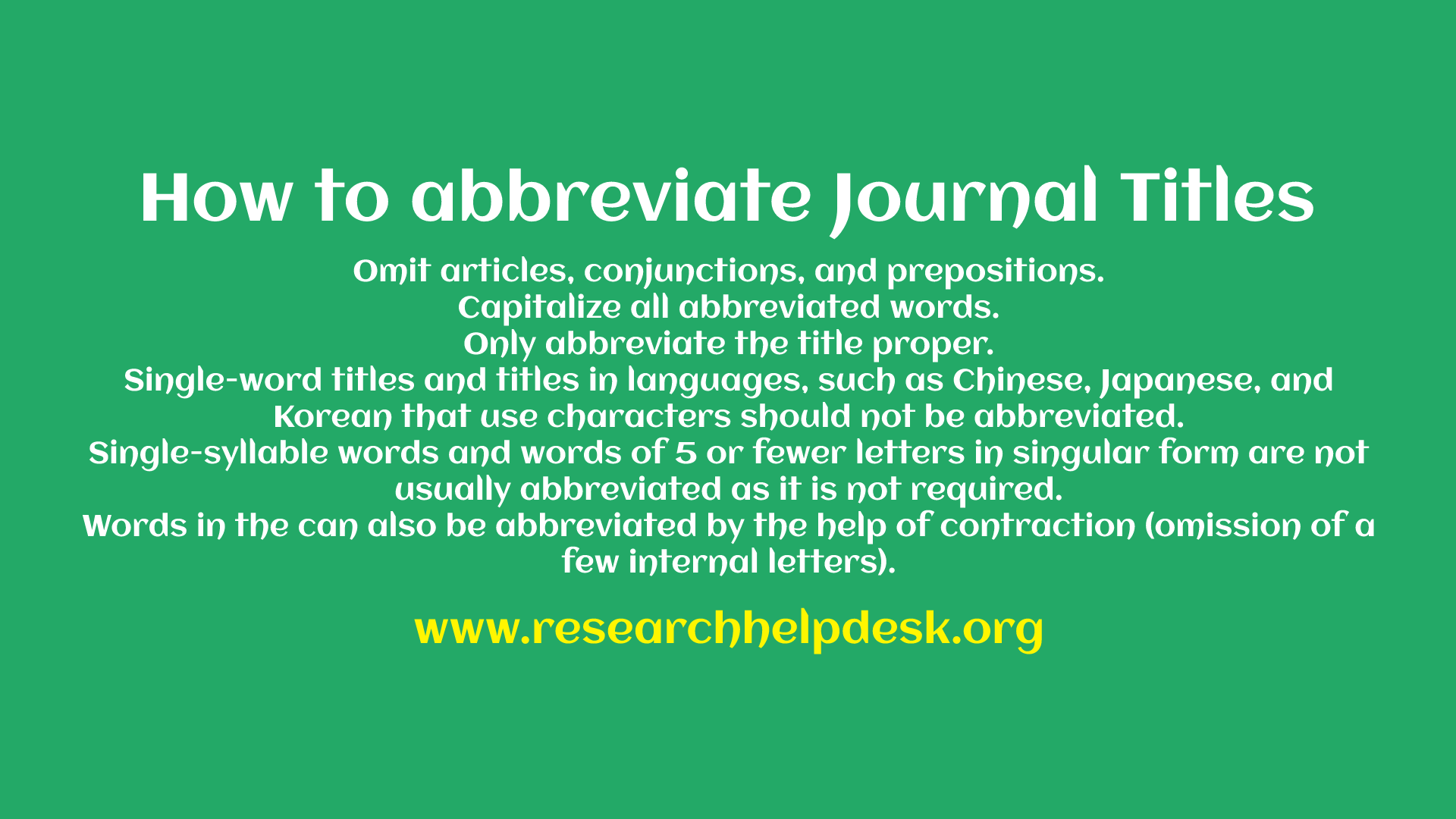 How to abbreviate Journal Titles
Omit articles, conjunctions, and prepositions.
Capitalize all abbreviated words.
Only abbreviate the title proper.
Single-word titles and titles in languages, such as Chinese, Japanese, and Korean that use characters should not be abbreviated.
Single-syllable words and words of 5 or fewer letters in singular form are not usually abbreviated as it is not required.
Words in the can also be abbreviated by the help of contraction (omission of a few internal letters).
Annals of Botany
Annals of Botany is an international plant science journal publishing novel and rigorous research in all areas of plant science. It is published monthly in both electronic and printed forms with at least two extra issues each year that focus on a particular theme in plant biology. The Journal is managed by the Annals of Botany Company, a not-for-profit educational charity established to promote plant science worldwide. The Journal publishes original research papers, invited and submitted review articles, 'Research in Context' expanding on original work, 'Botanical Briefings' as short overviews of important topics, and 'Viewpoints' giving opinions. All papers in each issue are summarized briefly in Content Snapshots , there are topical news items in the Plant Cuttings section and Book Reviews . A rigorous review process ensures that readers are exposed to genuine and novel advances across a wide spectrum of botanical knowledge. All papers aim to advance knowledge and make a difference to our understanding of plant science. The Annals of Botany Company is a Limited Company registered in England No. 78001 at University of Exeter, Innovation Centre, Rennes Drive, Exeter EX4 4RN, UK, and is also a Registered Charity, No. 237771. Abstract & indexing The journal is covered by the following services: Abstracts more...
---