Journal of the ACM (ISO4) Standard Journal Abbreviation
J. ACM. (J ACM)
---
Journal of the ACM - Abbreviation - Journals usually have long names, such as (Journal of the ACM). It is hard to list them in databases with such long names so they're usually shortened to aid in storing data. These shortened names are known as journal abbreviations. Journal abbreviations are shortened from the Journal title. An example of a Journal of the ACM abbreviation is J. ACM. (J ACM).
The use of standardized abbreviations is important to get correct and corroborated scientific and technical citations.
Abbreviation of Journal of the ACM
The official abbreviation of the Journal of the ACM is J. ACM. it is a standardized way to abstract, index, and reference a particular journal according to ISO 4. For example, if you're looking for a scientific journal that particularly publishes research related to Computer science in / then you can gather the required information from Journal of the ACM.
This abbreviation of the title meets all the criteria issued by ISO4 for choosing journal title abbreviations.
The official abbreviation of the Journal of the ACM is J. ACM.
Journal of the ACM - Abbreviation Details
---
ISO4 and LTWA
List of Title Word Abbreviations or LTWA is standard abbreviations for words commonly found in serial titles. LTWA includes has more than 56,000 words and their abbreviations in about 65 languages, it is a vast database. These abbreviated words serve as the basis for constituting "abbreviated key titles" published in the ISSN Register. So might consist of words from LTWA that are formed according to ISO4 by ISSN.
The International Organization for Standardization (ISO) has appointed the ISSN (International Standard Serial Number) International Centre as the registration authority for ISO 4. ISO 4 (Information and documentation – Rules for the abbreviation of title words and titles of publications) is an international standard that marks a static system for the abbreviation of serial publication titles. According to ISO4, terms are abbreviated according to LTWA. It is a list that is filled with all the uniform abbreviations used for words in scientific excerpts. It is based on ISO 4.
International Standard for Serial Numbers provides guidelines for abbreviating titles of serials and, if required, non-serial documents by using alphabets from languages like Latin, Cyrillic, and Greek.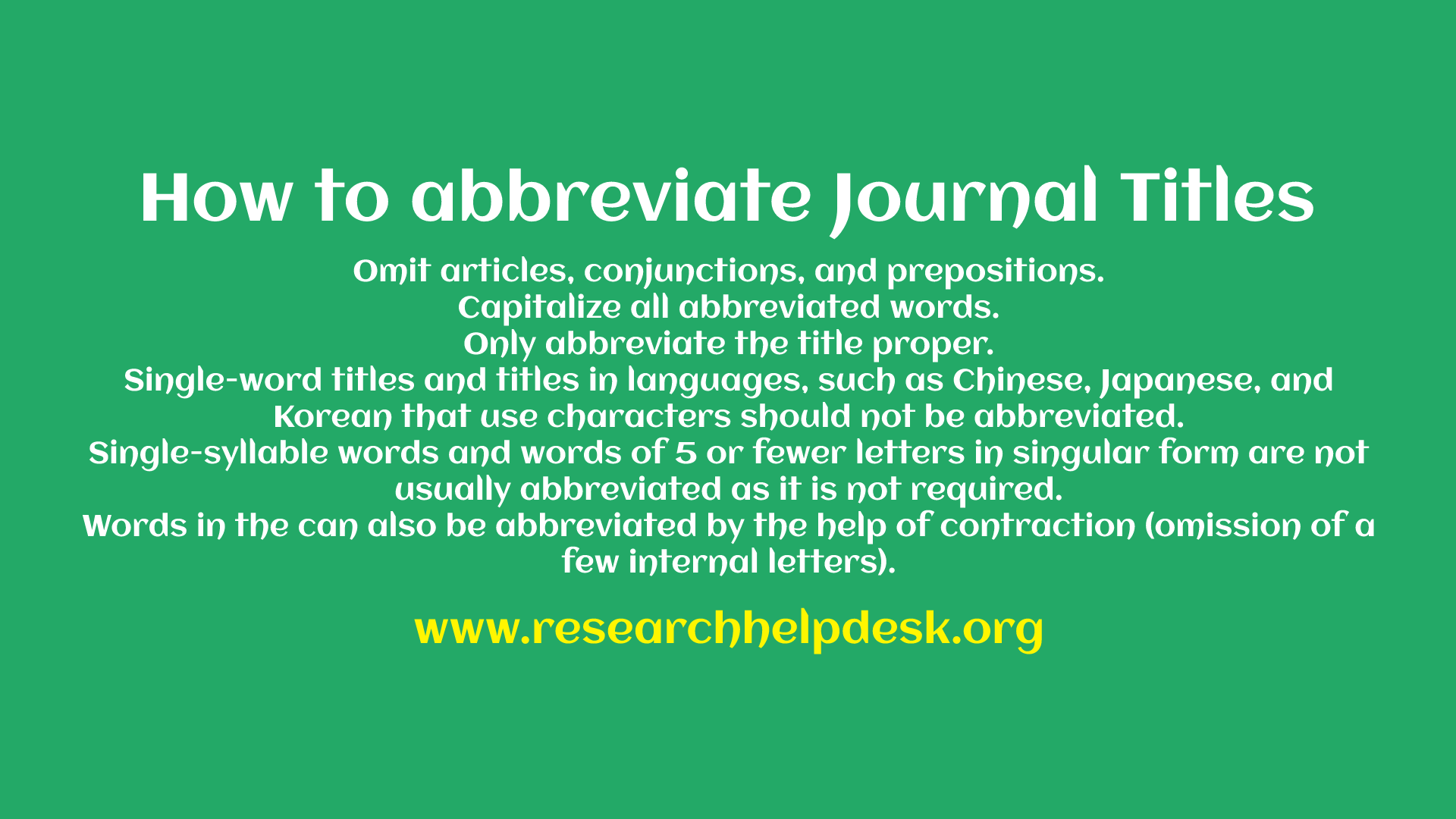 How to abbreviate Journal Titles
Omit articles, conjunctions, and prepositions.
Capitalize all abbreviated words.
Only abbreviate the title proper.
Single-word titles and titles in languages, such as Chinese, Japanese, and Korean that use characters should not be abbreviated.
Single-syllable words and words of 5 or fewer letters in singular form are not usually abbreviated as it is not required.
Words in the can also be abbreviated by the help of contraction (omission of a few internal letters).
Journal of the ACM
The Journal of the ACM (JACM) provides coverage of the most significant work on principles of computer science, broadly construed. The scope of research we cover encompasses contributions of lasting value to any area of computer science. To be accepted, a paper must be judged to be truly outstanding in its field. JACM is interested in work in core computer science and at the boundaries, both the boundaries of subdisciplines of computer science and the boundaries between computer science and other fields. Scope The best indicator of the scope of the journal is provided by the areas covered by its Editorial Board. These areas change from time to time, as the field evolves. The following areas are currently covered by a member of the Editorial Board: Algorithms and Combinatorial Optimization Algorithms and Data Structures Algorithms, Combinatorial Optimization, and Games Artificial Intelligence Complexity Theory Computational Biology Computational Geometry Computer Graphics and Computer Vision Computer-Aided Verification Cryptography and Security Cyber-Physical, Embedded, and Real-Time Systems Database Systems and Theory Distributed Computing Economics and Computation Information Theory Logic and Computation Logic, Algorithms, and Complexity Machine Learning and Computational Learning Theory Networking Parallel Computing and Architecture Programming Languages Quantum Computing Randomized Algorithms and Probabilistic Analysis of Algorithms Scientific Computing and High Performance Computing Software Engineering Web Algorithms and Data Mining Abstracting and Indexing AI2 Semantic Scholar AMS MathSciNet Baidu Clarivate / ISI: JCR more...
---