Comparative Philosophy (ISO4) Standard Journal Abbreviation
Comp. Philos. (Comp Philos)
---
Comparative Philosophy - Abbreviation - Journals usually have long names, such as (Comparative Philosophy). It is hard to list them in databases with such long names so they're usually shortened to aid in storing data. These shortened names are known as journal abbreviations. Journal abbreviations are shortened from the Journal title. An example of a Comparative Philosophy abbreviation is Comp. Philos. (Comp Philos).
The use of standardized abbreviations is important to get correct and corroborated scientific and technical citations.
Abbreviation of Comparative Philosophy
The official abbreviation of the Comparative Philosophy is Comp. Philos. it is a standardized way to abstract, index, and reference a particular journal according to ISO 4. For example, if you're looking for a scientific journal that particularly publishes research related to Arts and Humanities in / then you can gather the required information from Comparative Philosophy.
This abbreviation of the title meets all the criteria issued by ISO4 for choosing journal title abbreviations.
The official abbreviation of the Comparative Philosophy is Comp. Philos.
Comparative Philosophy - Abbreviation Details
---
ISO4 and LTWA
List of Title Word Abbreviations or LTWA is standard abbreviations for words commonly found in serial titles. LTWA includes has more than 56,000 words and their abbreviations in about 65 languages, it is a vast database. These abbreviated words serve as the basis for constituting "abbreviated key titles" published in the ISSN Register. So might consist of words from LTWA that are formed according to ISO4 by ISSN.
The International Organization for Standardization (ISO) has appointed the ISSN (International Standard Serial Number) International Centre as the registration authority for ISO 4. ISO 4 (Information and documentation – Rules for the abbreviation of title words and titles of publications) is an international standard that marks a static system for the abbreviation of serial publication titles. According to ISO4, terms are abbreviated according to LTWA. It is a list that is filled with all the uniform abbreviations used for words in scientific excerpts. It is based on ISO 4.
International Standard for Serial Numbers provides guidelines for abbreviating titles of serials and, if required, non-serial documents by using alphabets from languages like Latin, Cyrillic, and Greek.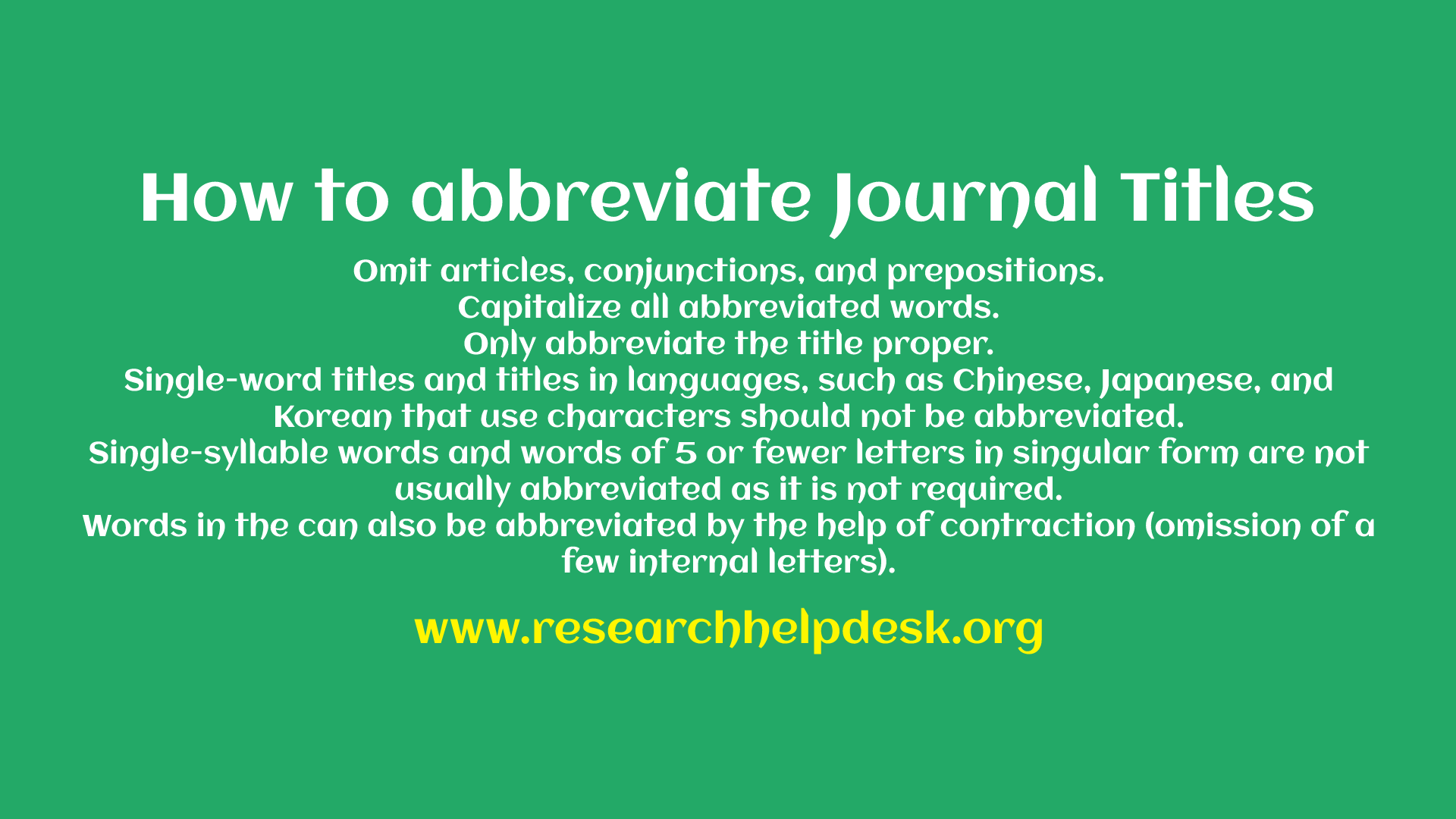 How to abbreviate Journal Titles
Omit articles, conjunctions, and prepositions.
Capitalize all abbreviated words.
Only abbreviate the title proper.
Single-word titles and titles in languages, such as Chinese, Japanese, and Korean that use characters should not be abbreviated.
Single-syllable words and words of 5 or fewer letters in singular form are not usually abbreviated as it is not required.
Words in the can also be abbreviated by the help of contraction (omission of a few internal letters).
Comparative Philosophy
Comparative Philosophy is a peer-reviewed, open-access/non-profit international journal of philosophy, with emphasis on the constructive engagement of distinct approaches to philosophical issues, problems, themes from different philosophical traditions (whether distinguished culturally or by style/orientation) for the sake of their joint contribution to the common philosophical enterprise and the development of contemporary society, and on general theory and methodology of comparative philosophy. Comparative Philosophy is an independent international academic journal. The International Editorial Board of the Journal consists of its Advisory Board and its Editorial Committee. Taking the open-access approach, the Journal is not published by a commercial press but by non-profit university institutions through universal accessibility of the Internet. No article submission or processing charges are required from prospective authors. All content is freely available without charge to the user or his/her institution. Users are allowed to read, download, copy, distribute, print, search, or link to the full texts of the articles, or use them for any other lawful purpose, without asking prior permission from the publisher or the author. The journal is published in English on the World Wide Web; its current co-publishers are the Center for Comparative Philosophy & University Library at San Jose State University, California, USA, and bepress, USA. The more...
---