IETE journal of research (ISO4) Standard Journal Abbreviation
IETE J. Res. (IETE J Res)
---
IETE journal of research - Abbreviation - Journals usually have long names, such as (IETE journal of research). It is hard to list them in databases with such long names so they're usually shortened to aid in storing data. These shortened names are known as journal abbreviations. Journal abbreviations are shortened from the Journal title. An example of a IETE journal of research abbreviation is IETE J. Res. (IETE J Res).
The use of standardized abbreviations is important to get correct and corroborated scientific and technical citations.
Abbreviation of IETE journal of research
The official abbreviation of the IETE journal of research is IETE J. Res. it is a standardized way to abstract, index, and reference a particular journal according to ISO 4. For example, if you're looking for a scientific journal that particularly publishes research related to Engineering research in / then you can gather the required information from IETE journal of research.
This abbreviation of the title meets all the criteria issued by ISO4 for choosing journal title abbreviations.
The official abbreviation of the IETE journal of research is IETE J. Res.
IETE journal of research - Abbreviation Details
---
ISO4 and LTWA
List of Title Word Abbreviations or LTWA is standard abbreviations for words commonly found in serial titles. LTWA includes has more than 56,000 words and their abbreviations in about 65 languages, it is a vast database. These abbreviated words serve as the basis for constituting "abbreviated key titles" published in the ISSN Register. So might consist of words from LTWA that are formed according to ISO4 by ISSN.
The International Organization for Standardization (ISO) has appointed the ISSN (International Standard Serial Number) International Centre as the registration authority for ISO 4. ISO 4 (Information and documentation – Rules for the abbreviation of title words and titles of publications) is an international standard that marks a static system for the abbreviation of serial publication titles. According to ISO4, terms are abbreviated according to LTWA. It is a list that is filled with all the uniform abbreviations used for words in scientific excerpts. It is based on ISO 4.
International Standard for Serial Numbers provides guidelines for abbreviating titles of serials and, if required, non-serial documents by using alphabets from languages like Latin, Cyrillic, and Greek.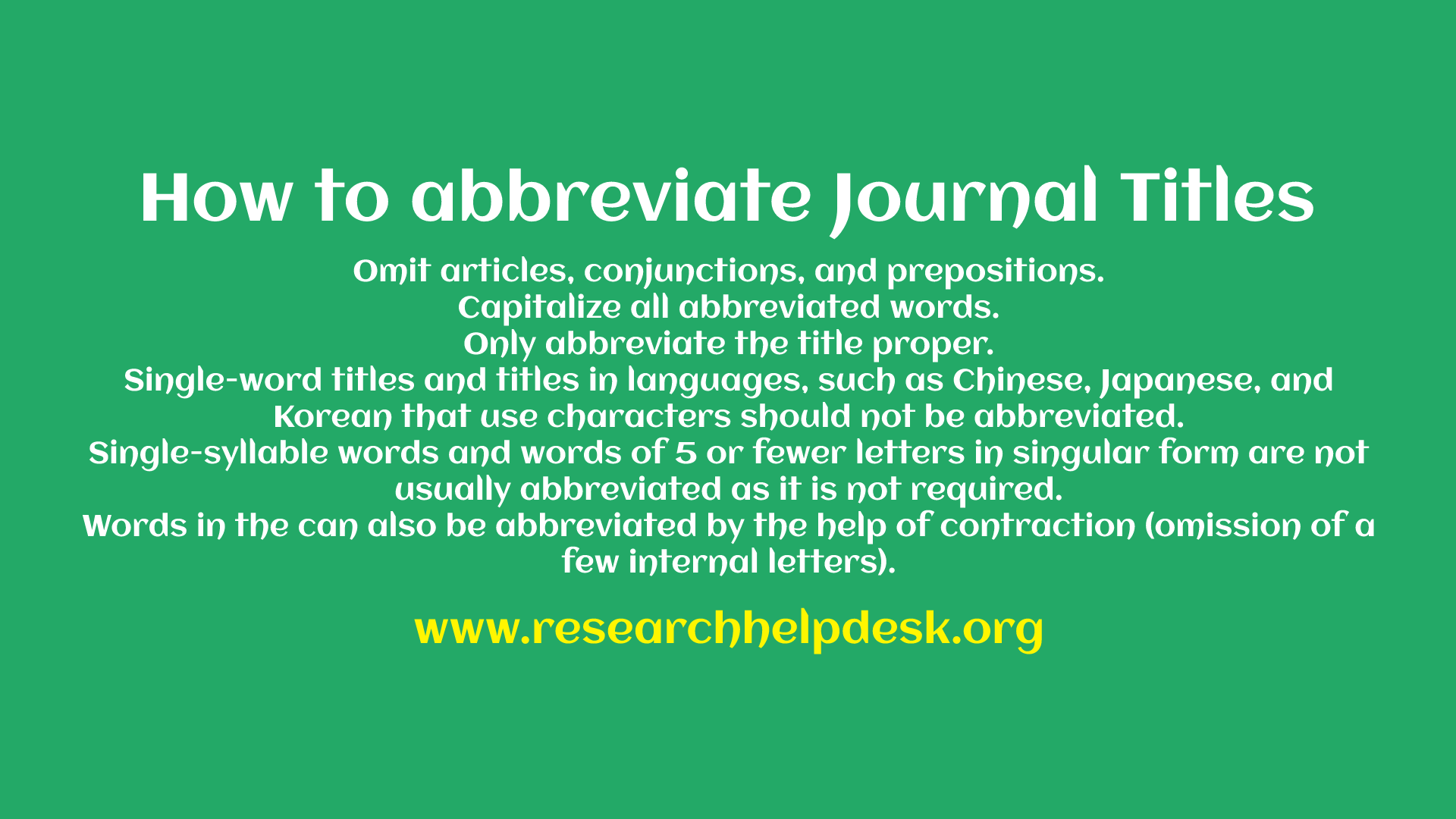 How to abbreviate Journal Titles
Omit articles, conjunctions, and prepositions.
Capitalize all abbreviated words.
Only abbreviate the title proper.
Single-word titles and titles in languages, such as Chinese, Japanese, and Korean that use characters should not be abbreviated.
Single-syllable words and words of 5 or fewer letters in singular form are not usually abbreviated as it is not required.
Words in the can also be abbreviated by the help of contraction (omission of a few internal letters).
IETE journal of research
IETE Journal of Research is a bimonthly journal published by the Institution of Electronics and Telecommunication Engineers (IETE), India. It publishes scientific and technical papers describing original research work or novel product/process development. Occasionally special issues are brought out on new and emerging research areas. This journal is useful to researchers, engineers, scientists, teachers, managers, and students who are interested in keeping track of original research and development work being carried out in the broad area of electronics, telecommunications, computer science, and engineering and information technology. Subjects covered by this journal are: Communications: Digital and analog communication, Digital signal processing, Image processing, Satellite communication, Secure communication, Speech and audio processing, Space communication, Vehicular communications, Wireless communication. Computers and Computing: Algorithms, Artificial intelligence, Computer graphics, Compiler programming and languages, Computer vision, Data mining, High-performance computing, Information technology, Internet computing, Multimedia, Networks, Network Security, Operating systems, Quantum learning systems, Pattern Recognition, Sensor networks, Soft computing. Control Engineering: Control theory and practice- Conventional control, Non-linear control, Adaptive control, Robust Control, Reinforcement learning control, Soft computing tools in control application- Fuzzy logic systems, Neural Networks, Support vector machines, Intelligent control. Electromagnetics: Antennas and arrays, Bio-electromagnetics, Computational electromagnetics, Electromagnetic interference, Electromagnetic compatibility, Metamaterials, Millimeter-wave and Terahertz circuits and systems, Microwave measurements, more...
---