Journal of Environmental Chemical Engineering (ISO4) Standard Journal Abbreviation
J. Environ. Chem. Eng. (J Environ Chem Eng)
---
Journal of Environmental Chemical Engineering - Abbreviation - Journals usually have long names, such as (Journal of Environmental Chemical Engineering). It is hard to list them in databases with such long names so they're usually shortened to aid in storing data. These shortened names are known as journal abbreviations. Journal abbreviations are shortened from the Journal title. An example of a Journal of Environmental Chemical Engineering abbreviation is J. Environ. Chem. Eng. (J Environ Chem Eng).
The use of standardized abbreviations is important to get correct and corroborated scientific and technical citations.
Abbreviation of Journal of Environmental Chemical Engineering
The official abbreviation of the Journal of Environmental Chemical Engineering is J. Environ. Chem. Eng. it is a standardized way to abstract, index, and reference a particular journal according to ISO 4. For example, if you're looking for a scientific journal that particularly publishes research related to Engineering research in / then you can gather the required information from Journal of Environmental Chemical Engineering.
This abbreviation of the title meets all the criteria issued by ISO4 for choosing journal title abbreviations.
The official abbreviation of the Journal of Environmental Chemical Engineering is J. Environ. Chem. Eng.
Journal of Environmental Chemical Engineering - Abbreviation Details
---
ISO4 and LTWA
List of Title Word Abbreviations or LTWA is standard abbreviations for words commonly found in serial titles. LTWA includes has more than 56,000 words and their abbreviations in about 65 languages, it is a vast database. These abbreviated words serve as the basis for constituting "abbreviated key titles" published in the ISSN Register. So might consist of words from LTWA that are formed according to ISO4 by ISSN.
The International Organization for Standardization (ISO) has appointed the ISSN (International Standard Serial Number) International Centre as the registration authority for ISO 4. ISO 4 (Information and documentation – Rules for the abbreviation of title words and titles of publications) is an international standard that marks a static system for the abbreviation of serial publication titles. According to ISO4, terms are abbreviated according to LTWA. It is a list that is filled with all the uniform abbreviations used for words in scientific excerpts. It is based on ISO 4.
International Standard for Serial Numbers provides guidelines for abbreviating titles of serials and, if required, non-serial documents by using alphabets from languages like Latin, Cyrillic, and Greek.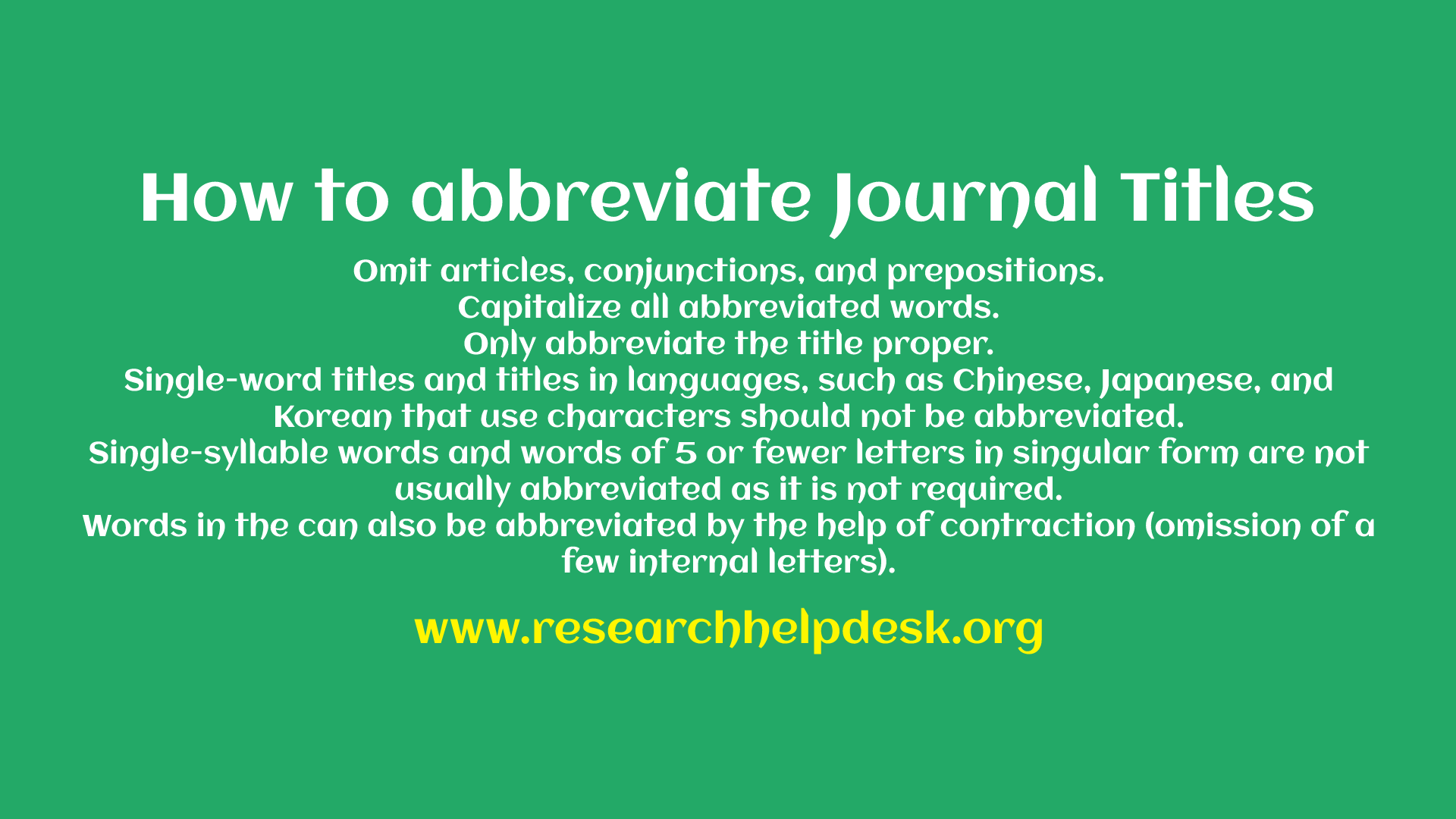 How to abbreviate Journal Titles
Omit articles, conjunctions, and prepositions.
Capitalize all abbreviated words.
Only abbreviate the title proper.
Single-word titles and titles in languages, such as Chinese, Japanese, and Korean that use characters should not be abbreviated.
Single-syllable words and words of 5 or fewer letters in singular form are not usually abbreviated as it is not required.
Words in the can also be abbreviated by the help of contraction (omission of a few internal letters).
Journal of Environmental Chemical Engineering
The Journal of Environmental Chemical Engineering provides a forum for the publication of original research on the development of sustainable technologies focusing on water and wastewater treatment and reuse; pollution prevention; resource recovery of waste; nanomaterials for environmental applications; sustainability and environmental safety; and recent developments on green chemistry. JECE calls for full-length research papers, critical review papers, perspectives and letters to the Editor that cover the following fields: Physico-chemical processes: Adsorption/biosorption, ion exchange, membrane processes, magnetic separation, particle separation, phase separation, multiphase extraction, thermal/evaporative processes Advanced oxidation processes: Heterogeneous catalysis, UV/H2O2, Fenton oxidation, ozonation, sonolysis, plasma processes, electrochemical treatment, wet air oxidation Nanomaterials for environmental and chemical applications: Adsorbents, catalysts, nanocomposites, metal-organic frameworks, nanocarbon materials Biological processes: Anaerobic process, aerobic process, biofilm process, membrane bioreactorSustainable technologies: Water reclamation and reuse, carbon capture, wast-to-energy/materials, resource recovery JECE also covers the following fields: Occurence, fate, transport and detection of micropollutants, nanoparticles and microplastics Antimicrobial resistance Greenhouse gas mitigation technologies Novel disinfection methods Zero or minimal liquid discharge technologies Biofuel production Advanced water analytics Abstracting and Indexing INSPEC Journal Title Abbreviations CHEM ENG J ISSN 1385-8947 h-index 172 CiteScore SJR SNIP CiteScore Rank 8.47 2.066 1.941 Subject field Quartiles Rank Percentile Category: Engineering Subcategory: Industrial and Manufacturing Engineering Q1 5 / 323 98% Category: Environmental Science Subcategory: Environmental Chemistry Q1 5 / 100 95% Category: Chemical Engineering Subcategory: General Chemical Engineering Q1 8 / 272 97% Category: Chemistry Subcategory: General Chemistry Q1 22 / 371 94% more...
---