Nature reviews rheumatology (ISO4) Standard Journal Abbreviation
Nat. Rev. Rheumatol. (Nat Rev Rheumatol)
---
Nature reviews rheumatology - Abbreviation - Journals usually have long names, such as (Nature reviews rheumatology). It is hard to list them in databases with such long names so they're usually shortened to aid in storing data. These shortened names are known as journal abbreviations. Journal abbreviations are shortened from the Journal title. An example of a Nature reviews rheumatology abbreviation is Nat. Rev. Rheumatol. (Nat Rev Rheumatol).
The use of standardized abbreviations is important to get correct and corroborated scientific and technical citations.
Abbreviation of Nature reviews rheumatology
The official abbreviation of the Nature reviews rheumatology is Nat. Rev. Rheumatol. it is a standardized way to abstract, index, and reference a particular journal according to ISO 4. For example, if you're looking for a scientific journal that particularly publishes research related to Orthopaedics in / then you can gather the required information from Nature reviews rheumatology.
This abbreviation of the title meets all the criteria issued by ISO4 for choosing journal title abbreviations.
The official abbreviation of the Nature reviews rheumatology is Nat. Rev. Rheumatol.
Nature reviews rheumatology - Abbreviation Details
---
ISO4 and LTWA
List of Title Word Abbreviations or LTWA is standard abbreviations for words commonly found in serial titles. LTWA includes has more than 56,000 words and their abbreviations in about 65 languages, it is a vast database. These abbreviated words serve as the basis for constituting "abbreviated key titles" published in the ISSN Register. So might consist of words from LTWA that are formed according to ISO4 by ISSN.
The International Organization for Standardization (ISO) has appointed the ISSN (International Standard Serial Number) International Centre as the registration authority for ISO 4. ISO 4 (Information and documentation – Rules for the abbreviation of title words and titles of publications) is an international standard that marks a static system for the abbreviation of serial publication titles. According to ISO4, terms are abbreviated according to LTWA. It is a list that is filled with all the uniform abbreviations used for words in scientific excerpts. It is based on ISO 4.
International Standard for Serial Numbers provides guidelines for abbreviating titles of serials and, if required, non-serial documents by using alphabets from languages like Latin, Cyrillic, and Greek.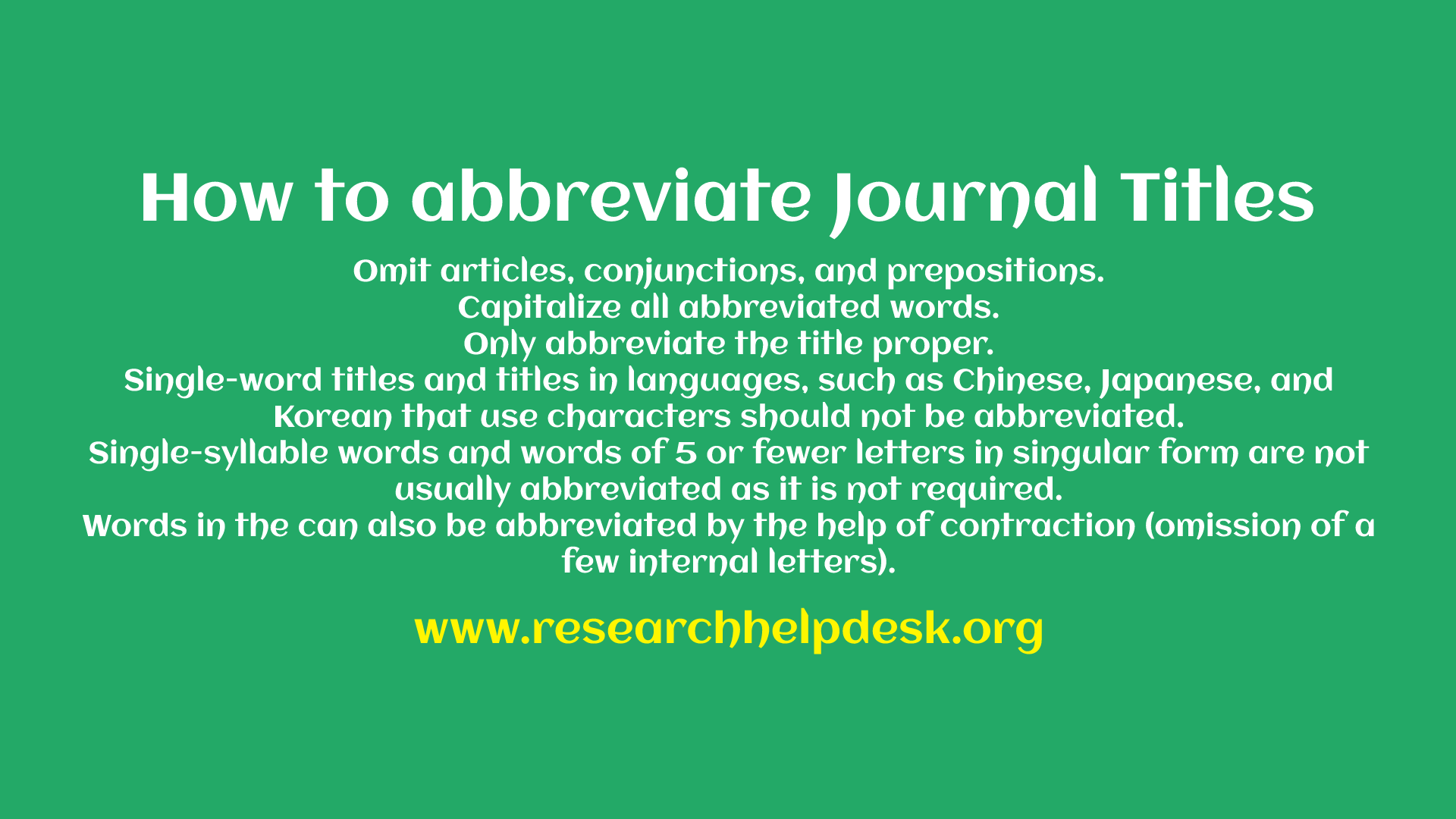 How to abbreviate Journal Titles
Omit articles, conjunctions, and prepositions.
Capitalize all abbreviated words.
Only abbreviate the title proper.
Single-word titles and titles in languages, such as Chinese, Japanese, and Korean that use characters should not be abbreviated.
Single-syllable words and words of 5 or fewer letters in singular form are not usually abbreviated as it is not required.
Words in the can also be abbreviated by the help of contraction (omission of a few internal letters).
Nature reviews rheumatology
Nature reviews Rheumatology - Nature Reviews' basic, translational and clinical content is written by internationally renowned basic and clinical academics and researchers and targeted towards readers in the biological and medical sciences, from postgraduate level upwards. While intended to be read by practicing doctors, researchers, and academics within a specialty, we aim to make all our articles accessible to readers working in any biological or medical discipline. In-depth Reviews present authoritative, up-to-date information on a topic, placing it in the context of a field's history and development. Consensus Statements provide evidence-based or eminence-based recommendations and present a balanced view put together by a task force of experts. Topical discussion and opinions are proffered in Perspectives, Comment, and News & Views articles, and in the Research Highlights section, we filter primary research from a range of specialty and general medical and scientific journals. Subjects Covered Rheumatoid arthritis Osteoarthritis Systemic lupus erythematosus, lupus nephritis and related disorders Bone disease (including osteoporosis) and bone biology Systemic sclerosis and Raynaud phenomenon Antiphospholipid syndrome Sjögren syndrome Spondyloarthritis (including ankylosing spondylitis, psoriatic arthritis and reactive arthritis) Gout and other crystal deposition diseases Autoinflammatory diseases Acute inflammatory arthritis (including infectious/septic arthritis and Lyme arthritis) Idiopathic inflammatory myopathies (myositis) Fibromyalgia Polymyalgia rheumatica Vasculitis Other rheumatic diseases Pediatric rheumatology Inflammation Immunology (including osteoimmunology and immunometabolism) Musculoskeletal biology Pain mechanisms and management Mechanisms of more...
---