International journal of scientific research (ISO4) Standard Journal Abbreviation
Int. J. Sci. Res. (Int J Sci Res)
---
International journal of scientific research - Abbreviation - Journals usually have long names, such as (International journal of scientific research). It is hard to list them in databases with such long names so they're usually shortened to aid in storing data. These shortened names are known as journal abbreviations. Journal abbreviations are shortened from the Journal title. An example of a International journal of scientific research abbreviation is Int. J. Sci. Res. (Int J Sci Res).
The use of standardized abbreviations is important to get correct and corroborated scientific and technical citations.
Abbreviation of International journal of scientific research
The official abbreviation of the International journal of scientific research is Int. J. Sci. Res. it is a standardized way to abstract, index, and reference a particular journal according to ISO 4. For example, if you're looking for a scientific journal that particularly publishes research related to Science and knowledge in / then you can gather the required information from International journal of scientific research.
This abbreviation of the title meets all the criteria issued by ISO4 for choosing journal title abbreviations.
The official abbreviation of the International journal of scientific research is Int. J. Sci. Res.
International journal of scientific research - Abbreviation Details
---
ISO4 and LTWA
List of Title Word Abbreviations or LTWA is standard abbreviations for words commonly found in serial titles. LTWA includes has more than 56,000 words and their abbreviations in about 65 languages, it is a vast database. These abbreviated words serve as the basis for constituting "abbreviated key titles" published in the ISSN Register. So might consist of words from LTWA that are formed according to ISO4 by ISSN.
The International Organization for Standardization (ISO) has appointed the ISSN (International Standard Serial Number) International Centre as the registration authority for ISO 4. ISO 4 (Information and documentation – Rules for the abbreviation of title words and titles of publications) is an international standard that marks a static system for the abbreviation of serial publication titles. According to ISO4, terms are abbreviated according to LTWA. It is a list that is filled with all the uniform abbreviations used for words in scientific excerpts. It is based on ISO 4.
International Standard for Serial Numbers provides guidelines for abbreviating titles of serials and, if required, non-serial documents by using alphabets from languages like Latin, Cyrillic, and Greek.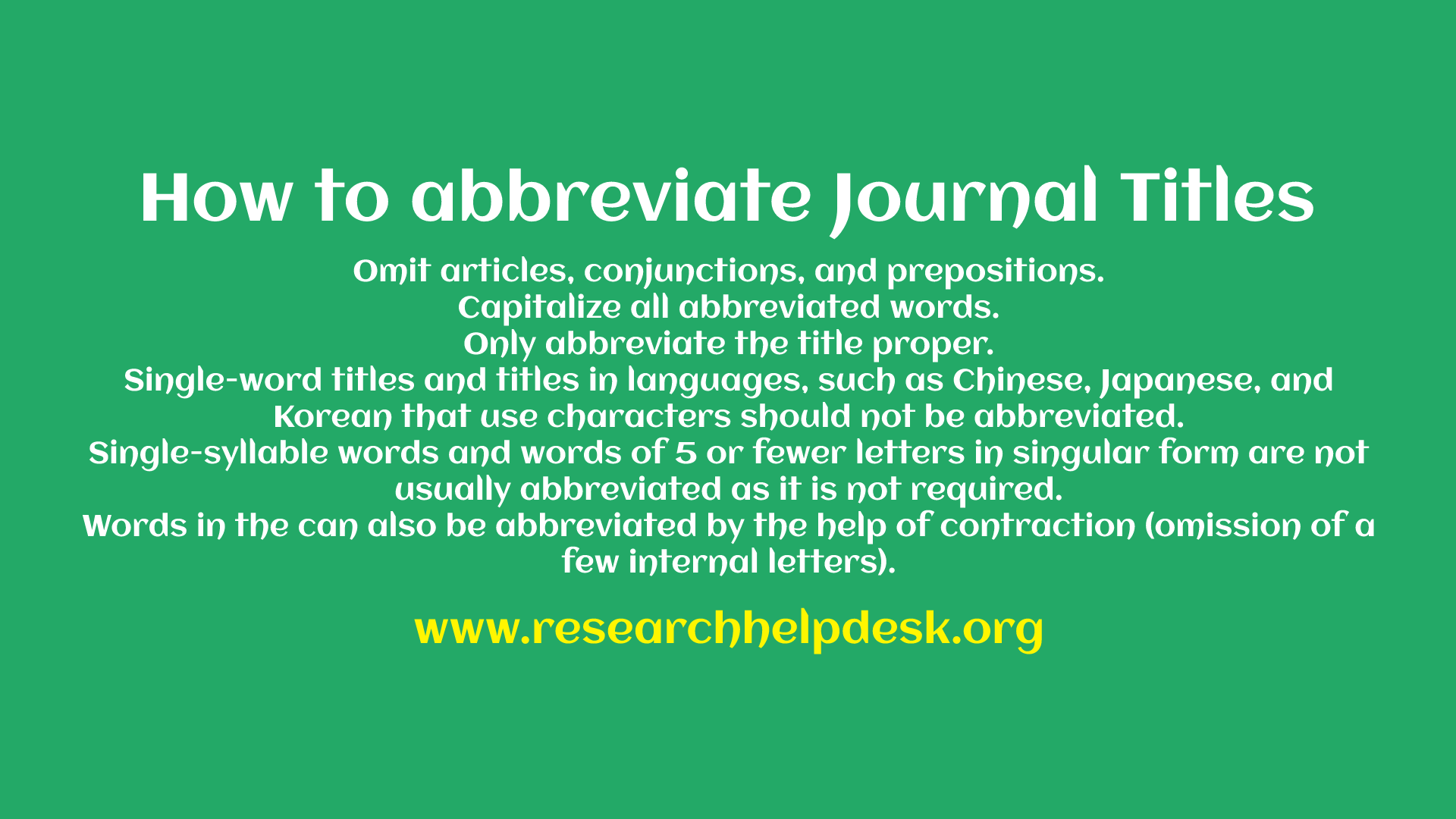 How to abbreviate Journal Titles
Omit articles, conjunctions, and prepositions.
Capitalize all abbreviated words.
Only abbreviate the title proper.
Single-word titles and titles in languages, such as Chinese, Japanese, and Korean that use characters should not be abbreviated.
Single-syllable words and words of 5 or fewer letters in singular form are not usually abbreviated as it is not required.
Words in the can also be abbreviated by the help of contraction (omission of a few internal letters).
International journal of scientific research
IJSR - International Journal of Scientific Research is a Double Reviewed, Peer-Reviewed monthly print journal, accepts intensive and exclusive research works in all spheres of Medical Science from Academicians, Professors, residents in their respective medico field. The journal aims to disseminate high-quality research work in the form of Original Research Papers, Case Reports, Review Reports, etc to the medical fraternity. The quality papers published are inline and acceptable by the Medical Council of India (MCI), Other Statutory Authorities in India and across the World. The journal releases on every 1st of the Month. Open access publishing The IJSR is an open-access publication and its content is, therefore, free for anybody to access online, to read and download, as well as to copy and disseminate for educational purposes. Articles are published immediately upon acceptance and production of the final formatted version. When published online The periphery of the Medical subject areas includes: Anatomy Anesthesiology Ayurveda Biochemistry Cardiology Clinical Research Clinical Science Community Medicine Dental Science Dermatology Diabetology Electrotherapy Endocrinology Endodontic ENT Epidemiology Forensic Medicine Forensic Science Gastroenterology General Medicine General Surgery Genetics Gynaecology Health Science Healthcare Hepatobiliary Surgery Homeopathic Human Genetics Immunohaematology Immunology Medical Physics Medical Science Medicine Microbiology Morphology Neonatology Nephrology Neurology Neurosurgery Nursing Gynaecology Oncology Ophthalmology Oral Medicine Oral Pathology Orthodontology Orthopaedics Paediatrics Pathology Periodontology Pharma Otolaryngology Pharmaceutical Pharmacology Pharmacy Physiology Physiotherapy Plastic Surgery Prosthodontics Psychiatry Pulmonary Medicine Radiodiagnosis Radiology Rehabilitation Science Rheumatology Surgery Unani Medicine Urology Editorial and Peer Review Processes IJSR - International Journal of Scientific Research a double-blind peer review. Referees remain anonymous for the author during the review procedure and the author's name is removed from the manuscript under review. Only more...
---