RSC Advances (ISO4) Standard Journal Abbreviation
RSC Adv. (RSC Adv)
---
RSC Advances - Abbreviation - Journals usually have long names, such as (RSC Advances). It is hard to list them in databases with such long names so they're usually shortened to aid in storing data. These shortened names are known as journal abbreviations. Journal abbreviations are shortened from the Journal title. An example of a RSC Advances abbreviation is RSC Adv. (RSC Adv).
The use of standardized abbreviations is important to get correct and corroborated scientific and technical citations.
Abbreviation of RSC Advances
The official abbreviation of the RSC Advances is RSC Adv. it is a standardized way to abstract, index, and reference a particular journal according to ISO 4. For example, if you're looking for a scientific journal that particularly publishes research related to Science and knowledge in / then you can gather the required information from RSC Advances.
This abbreviation of the title meets all the criteria issued by ISO4 for choosing journal title abbreviations.
The official abbreviation of the RSC Advances is RSC Adv.
RSC Advances - Abbreviation Details
---
ISO4 and LTWA
List of Title Word Abbreviations or LTWA is standard abbreviations for words commonly found in serial titles. LTWA includes has more than 56,000 words and their abbreviations in about 65 languages, it is a vast database. These abbreviated words serve as the basis for constituting "abbreviated key titles" published in the ISSN Register. So might consist of words from LTWA that are formed according to ISO4 by ISSN.
The International Organization for Standardization (ISO) has appointed the ISSN (International Standard Serial Number) International Centre as the registration authority for ISO 4. ISO 4 (Information and documentation – Rules for the abbreviation of title words and titles of publications) is an international standard that marks a static system for the abbreviation of serial publication titles. According to ISO4, terms are abbreviated according to LTWA. It is a list that is filled with all the uniform abbreviations used for words in scientific excerpts. It is based on ISO 4.
International Standard for Serial Numbers provides guidelines for abbreviating titles of serials and, if required, non-serial documents by using alphabets from languages like Latin, Cyrillic, and Greek.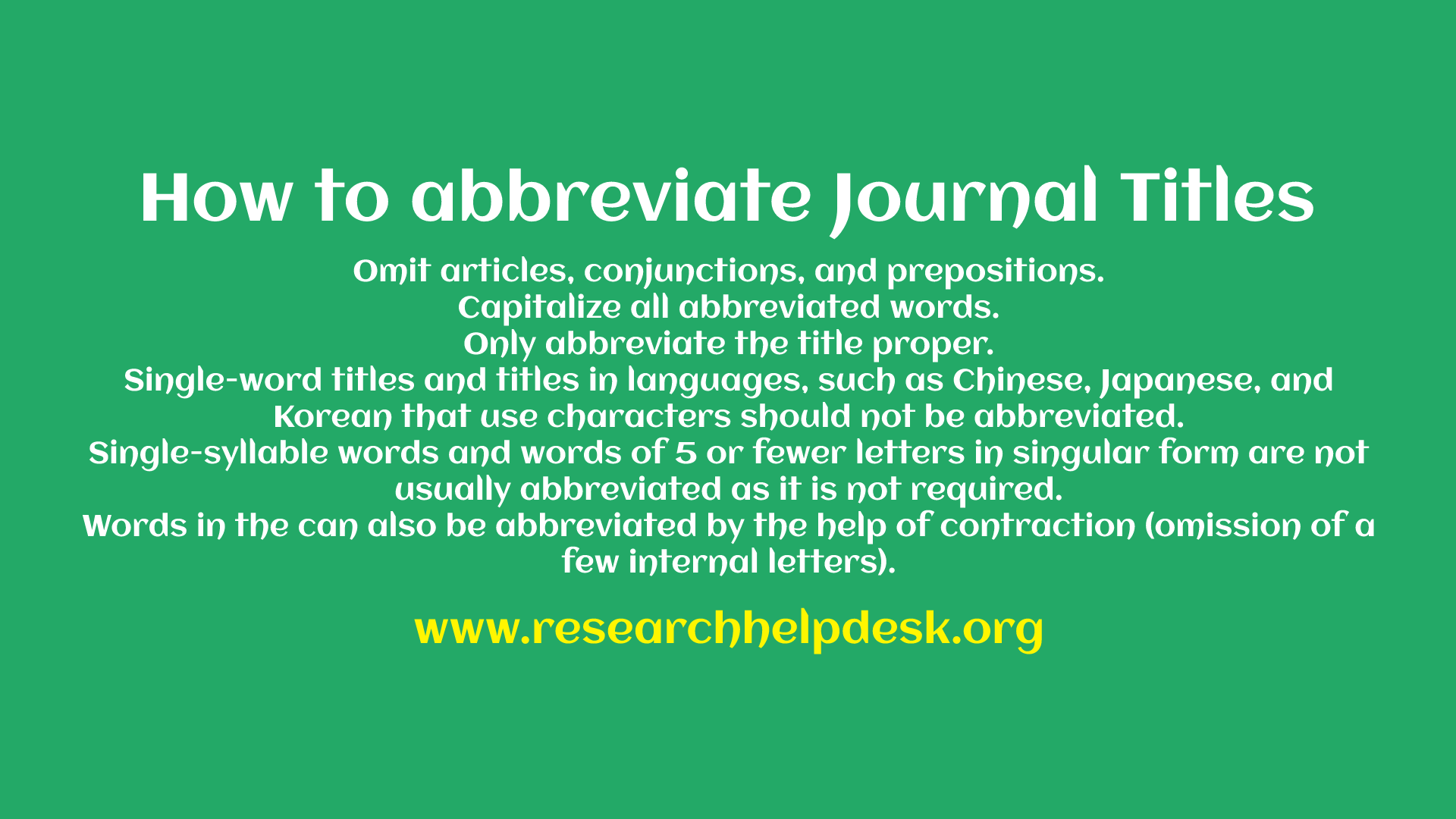 How to abbreviate Journal Titles
Omit articles, conjunctions, and prepositions.
Capitalize all abbreviated words.
Only abbreviate the title proper.
Single-word titles and titles in languages, such as Chinese, Japanese, and Korean that use characters should not be abbreviated.
Single-syllable words and words of 5 or fewer letters in singular form are not usually abbreviated as it is not required.
Words in the can also be abbreviated by the help of contraction (omission of a few internal letters).
RSC Advances
RSC Advances papers should provide an insight that advances the chemistry field. Papers that contain little or no chemistry and are not considered to be of interest or relevance to the chemistry community are not within the scope of the journal. The criteria for publication are that the work must be high quality, well-conducted and advance the development of the field. Articles submitted to the journal are evaluated by our international team of associate editors and reviewers for the overall quality and accuracy of the science presented. RSC Advances Subject Categories Main category Sub-categories Analytical Bioanalytical Medical diagnostics Atomic/elemental Microfluidics Chemometrics Nanoanalysis Crystallography Sensors Electroanalytical Separation science Imaging/microscopy Spectroscopy Mass spectrometry Biological Biomedical Microbiology Biophysics Molecular biology Cell biology Photobiology Computational Synthetic biology Diagnostics Systems biology Chemical biology & medicinal Bioinorganic chemistry Molecular biology Bioorganic chemistry Nanotechnology Biotechnology Natural products Cellular chemistry Polymorphism (pharma) Computational Pharmacology Drug delivery Photobiology Drug discovery Structural biology Imaging/diagnostics Toxicology Catalysis Acid/base Nanocatalysis Biocatalysis Organocatalysis Electrocatalysis Photocatalysis Heterogeneous Redox Homogeneous Energy Biofuels & biomass Hydrogen Biotechnology Materials & nanotechnology Fossil fuels Nuclear power Electrochemical energy Solar energy Environmental Analysis Remediation Atmosphere Soils/sediments Ecology Toxicity Nanoscience Water Radioactivity Food Food analysis Food structure Food colloids Nutrition Food processing Packaging Food safety Inorganic Group 1 & 2 metals Organometallic Bioinorganic Solid state Coordination chemistry Supramolecular Lanthanides/actinides Transition metals Main-group chemistry Main category Sub-categories Materials Biomaterials Gels & soft matter Biopolymers Inorganic materials Carbon materials Medical materials Composites Nanomaterials Electronic materials Optical materials Encapsulation Organic materials Energy applications Polymers Films/membranes Nanoscience Assembly Nanomaterials Biotechnology Nanomedicine Carbon nanomaterials Nanotoxicology Imaging/microscopy Optical nanomaterials Nanoanalysis Synthesis Nanocatalysis Organic Bioorganic Physical organic Catalysis Stereochemistry Sustainable synthesis Supramolecular Fine chemicals Synthetic methodology Natural products Total synthesis Physical Biophysics Nanoscience Charge transfer Photoscience Electrochemistry Quantum & theoretical Energy research Simulations Kinetics & dynamics Single molecules Imaging/microscopy Soft matter Materials Spectroscopy Mechanics Surfaces & interfaces RSC Advances Article processing charges and licensing Article processing charge Full price £750 (+local taxes if applicable)* Corresponding authors from India, Indonesia and Philippines £500 (+local taxes if applicable) Corresponding authors from Research4Life Group A & Group B Full APC waiver Readership information Readership includes academic, government and industrial scientists from all disciplines, specialised more...
---